ThingsCon Log: Smart Home Insecurities
Hola Fellow Responsible Tech People,
We have a whole slew of ThingsCon Salons coming up in the next four weeks, plus some reading around IoT, security, and demanding better from tech.
EVENTS, EVENTS, EVENTS
There are, as of today, already more than 10 ThingsCon events scheduled for this week, with more coming online every week. This is going to be one great year for the ThingsCon community! Over the next four weeks, here's what will be going on:
ThingsCon Salon Berlin. 4 April 2018. With Cathleen Berger and Chris Adams. Organized by Peter Bihr
ThingsCon Salon Cologne. With Aline Shakti Franze and Thomas Amberg. 6 April 2018. Organized by Simon Höher & Max Krüger
ThingsCon Rotterdam Hackathon: Citythings. 10 April 2018. Organized by Stichting ThingsCon Amsterdam
ThingsCon Salon Antwerp Comedy Special. 20 April 2018. Comedy at Lebowski's Comedy Club Antwerp (Berchem). Organized by Dries de Roeck.
---
JOIN THE CONVERSATION
Are you on Slack? Join our community backchannel on Slack in the footer. And as always, for any news follow us on Twitter.
---
READ, WATCH, LISTEN
What makes consumer IoT security so bad? Pen Test Partners have a very accessible write-up about why so many IoT devices are full of gaping security holes. None of this will surprise you if you've been in this space for a while, but it's a great reminder of the human and organizational aspects that make security such a contentious issue in the Internet of Things.
A simple reference model for connected products (PDF). Thomas Amberg (@tamberg) of Yaler fame drafted a simple reference model for more clearly discussion IoT infrastructure and connected products. Two thumbs up!
Amazon thinks it has a fix to Alexa's terrifying laughing issue. "We put a 2-pizza team on it and they solutioneered the creepy laugh away." (Not an actual quote.)
Let's Get Better at Demanding Better from Tech. I like a good, constructive rant, such as this reminder from Cory Doctorow.
Smart Home Security. xkcd nailing it, once more: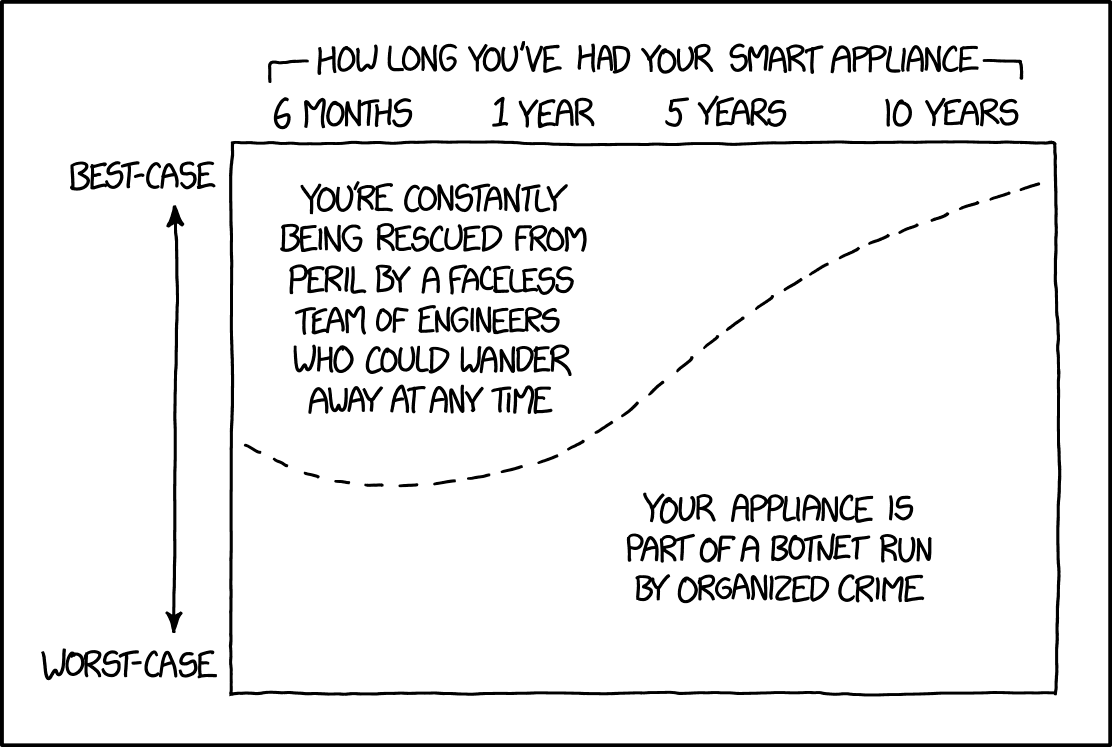 Have a fantastic week!
On behalf of the whole ThingsCon team,
Your scribe Peter
PS. Think a friend or colleague would enjoy this as a newsletter? Feel free to pass it on! 🙏